When you think of building out an overland adventure rig, you may look to models like the Toyota Tacoma, or a Subaru Outback, maybe even a Mercedes Sprinter Van. However, what these vehicles don't have is 12 wins at the most challenging motorsport event in the world: The Dakar Rally. You know what does? If you can't guess by the title, that would be the Mitsubishi Pajero (or Mitsubishi Montero for the US & Spain market). While of course the vehicle that raced was the Mitsubishi Pajero Evolution, a much more "souped-up" version of the Montero, it nonetheless, is a descendant of a Dakar Rally King.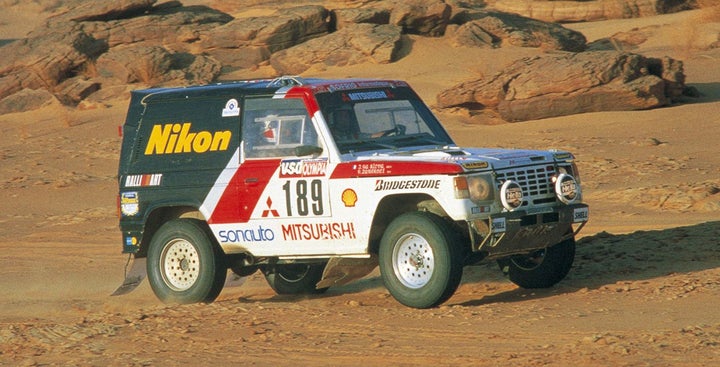 Entering the U.S. Market in 1983, at a sensible base price of $9,229.00, the Mitsubishi Montero had rocky sales throughout the 23 years it was here in the U.S., eventually discontinuing in 2006. However, it remained in other markets around the world under the badge name, Pajero. Which, fun fact: the word Pajero has a Spanish meaning similar to the British English word "wanker". 
So why we don't see more of these proven off-road capable beasts out on the road in the USA is somewhat shocking. Though, we're sure this will change soon, especially with today's used car market it's only a matter of time before these gems start getting pricier. If you're still not convinced to get one yourself, let us present to you an excellent example of a Mitsubishi Montero Overland build.
Meet @Mr_M0nter0 and his 2002 Montero Limited.
A budget friendly, tastefully built, battle proven Montero. 
The third generation of the Mitsubishi Montero is a body-on-frame construction, making it highly desirable for a better off-roading experience (compared to uni-body) and that much easier to modify. Starting with the dynamic three: Wheels, Tires and Suspension – Chris Velasco went with a 2" Lift ARB Old Man EMU HD Springs to help give him some clearance on the more difficult trails. He also has Airlift Suspension Air Bags for the Rear Springs with an air valve located on his back bumper – this is to help with the additional clearance needed when adding weight to the rear of the vehicle. Accompanying the suspension, Chris is outfitted with our 16x7.5" 6x139.7 ET0 Analog HD in Asphalt Black and wrapped in some 285/75/16 BF Goodrich KO2 tires. With the extra lift, Chris added 3 Pieces Steel Skid Plates from Adventure Driven Design to keep his undercarriage protected and 4.9 differentials to the front and rear.
No major changes for under the hood (as it's more than capable out the box), but a Pajero Snorkel Air Intake has been added for any sudden water challenges.
All the Extra Goodies.
Personalized Upgrades & Additions To Think About
Our favorite part of any adventure rig – all the extra goodies added to make the vehicle perfect for YOU. Chris's rig has everything he needs for multiple days exploring what the world has to offer, starting with his AreaBFE Black Series Aluminum Roof Top Tent on top of a Front Runner SlimLine II Rack for overnight trips. To keep fresh and clean, this vehicle is equipped with a AreaBFE Shower tent and 8 Gallon Waterport. When it's time to relax and enjoy the view, Chris opted for a Thule Overcast Awning. To help keep his food and drinks nice and cool, Chris has a Sunflare 105w Solar Panel connected to a Dometic CFX3 55IM on a Dometic Slide for easy access. The final touch is a bit of modern upgrade, opting for an Apple Car Play system so he can enjoy some bluetooth connectivity wherever the road may take him.
Check out more pics of Chris's Montero Build